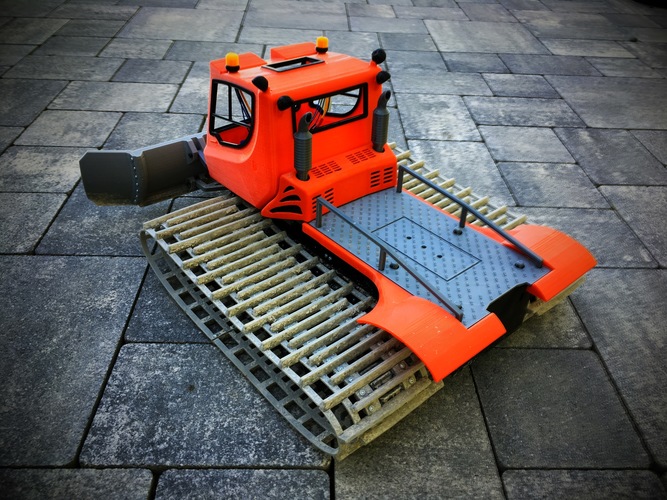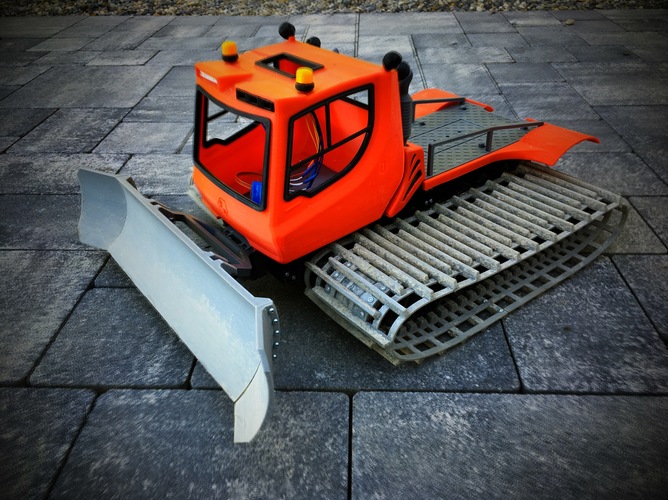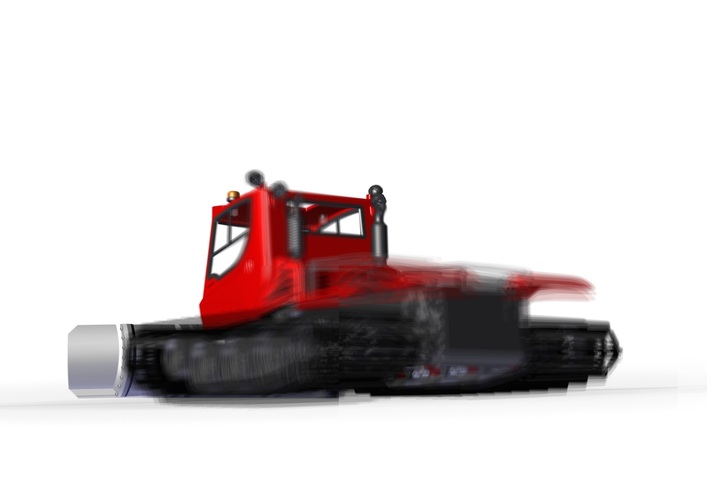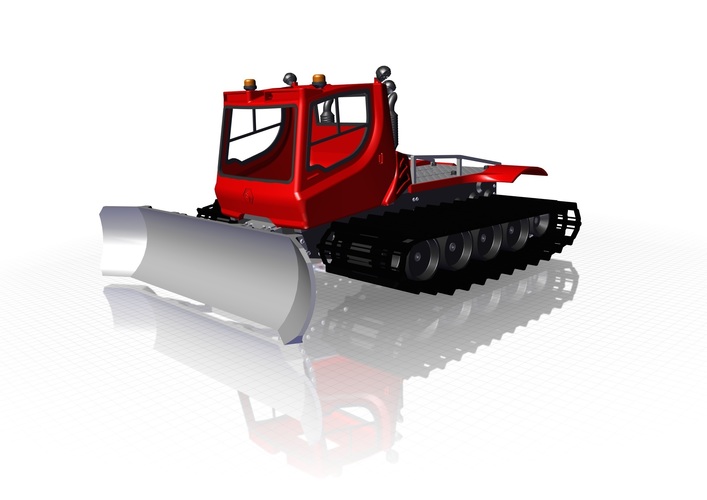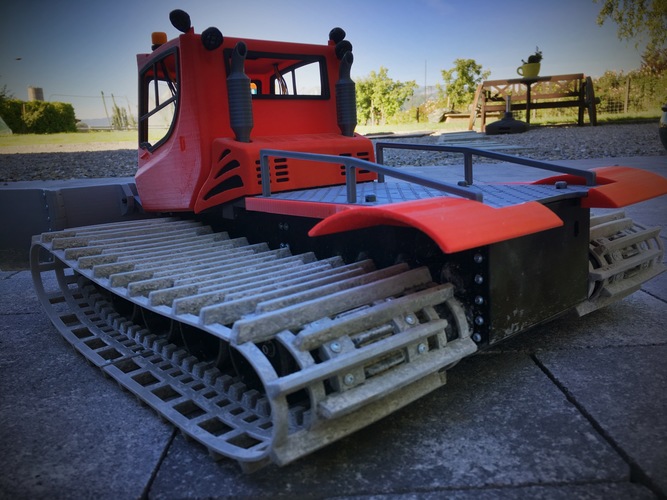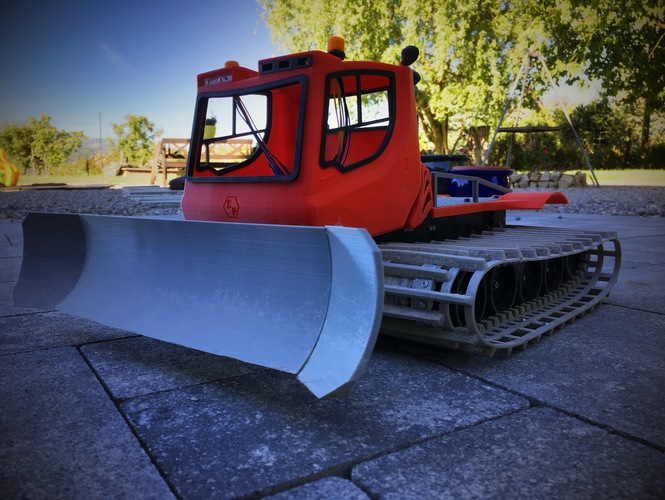 EDIT 04.10.2017 - Two optimized belts are added which support a better transmission. "Riemen 125 Optimiert" and "Riemen 200er Optimiert".
EDIT 09.07.2017 - Add 124a, 126a and 126b for small printers. Therefor now you need 3x 124a for an normal 124 and 126a + 126b for an normal 126.
EDIT 20.06.2017 - I've named the wrong ball joints. Uploaded new instructions.
Videos:
Maiden:
2nd Maiden: 
SnowPlow:
Some Fun:
Current Version: 
Deutsch:
Bitte unbedingt vor Druckbeginn das PDF ansehen in den Daten oder unter folgendem Link: https://www.dropbox.com/s/7pzm...
Das Projekt PistenBully entstand an Weihnachten 2016, als wir so einem Monster bei der Arbeit zugeschaut haben. Die Idee ist eigentlich, dass der Bully irgendwann noch eine Schneefräse und Anbauteile bekommt.
Das Design ist angelehnt an den PistenBully 300 und 600 der Firma Kässbohrer – ich hoffe die sind mir jetzt nicht zu böse dafür.
Das Design ist simpel, alle Komponenten können in PLA und TPU selber gedruckt werden. Stützmaterialien: entweder selber machen oder meine Designs entsprechend verwenden. Spezialfall ist die Kabine. Hierbei habe ich bereits einen Druckkeil für den oberen Kabinenbereich modelliert, welcher nach dem Druck entfernt werden kann. Somit ist nur noch Stützmaterial für den unteren Teil notwendig. Alles weitere inkl. der für die entsprechenden Bauetappe notwendigen Komponenten werden in der Montageanleitung aufgezeigt. 
Das notwendige Equipment habe ich inklusive der Lager von Banggood geordert. Gibt's aber auch bequem beim Händler vor Ort…
Viel Spass beim bauen und truxen…
English:
Please take a look to the PDF "Montageanleitung" before you start the print. English version is cooming soon. https://www.dropbox.com/s/7pzm...
The project PistenBully was started at Christmas 2016 while we watched a monster at work. The idea actually is to get also some snowmill and attachments for it. 
My design is based on the PistenBully 300 and 600 Kässbohrer - I hope they are not too angry on me therefor. But they're really cool!! 
The construction is simple, all components can be printed in PLA and TPU. You can choose to do the support by yourself or use the one I've done in the designs. Except for the cabin. However, I have already modeled a part for the upper cabin area, which can be removed after printing. So support only for the lower part is necessary. All further details are shown in the assembly instructions (please check the PDF "Montageanleitung PistenBully.pdf"! English version is following). 
I've ordered my equipment including the bearings at Banggood. But it is also available at your local dealer... 
Have fun and I hope you'll enjoy!
133 - Halter Heckboden Hinten.STL
124 KB
131 - Servohalter.STL
523 KB
104 - Aufhaengung Links.STL
168 KB
105 - Gummifeder-3er-80Grad.STL
205 KB
106 - Seite Hinten Links.STL
525 KB
107 - Seite Vorne Links.STL
459 KB
108 - Schale Hinten.STL
1.28 MB
143 - Kabinenhaube mit Teilsupport.STL
2.39 MB
144 - Deckplatte Hinten.STL
1.07 MB
145 - Kotfluegel Links.STL
52.4 KB
146 - Kotfluegel Rechts.STL
52.2 KB
134 - Domstrebe.STL
30.2 KB
136 - Kabinenhalter Rechts.STL
77.2 KB
137 - Motorblock Oben.STL
225 KB
138 - Motorblock Unten Links.STL
57.6 KB
139 - Motorblock Unten Rechts.STL
57.2 KB
140 - Motorabdeckung.STL
810 KB
141 - Auspuffrohr.STL
904 KB
142 - Kabinenmontageboden.STL
410 KB
151 - Scheinwerfer Blende Rechts.STL
6.72 KB
152 - Scheinwerfer Blende Links.STL
6.72 KB
155 - Fensterdichtung Seite Rechts.STL
151 KB
156 - Fensterdichtung Vorne.STL
83 KB
161 - Schneidevorlage Hinten.STL
3.21 KB
162 - Schneidevorlage Dach.STL
3.21 KB
101 - Felge gross mit Support.STL
218 KB
101 - Felge gross.STL
199 KB
109 - Schale Vorne.STL
392 KB
112 - Aufhaengung Rechts.STL
174 KB
114 - Seite Vorne Rechts.STL
460 KB
115 - Lipo Halter.STL
47.3 KB
118 - Getriebe Rechts 14mm Lager.STL
300 KB
118plus - Motorhalterachse.STL
22.2 KB
120 - Pulley Halter 14mm Lager.STL
19.6 KB
121 - GT2 Getriebestufe 80.STL
3.06 MB
123a - Getriebehalterclip 21mm.STL
17.9 KB
123b - Getriebehalterclip 22mm.STL
17.9 KB
123e - Getriebehalterclip 25mm.STL
17.5 KB
124 - Raupensegment.STL
457 KB
127 - Schaufel Seite Links.STL
306 KB
148 - Blinklicht Halter.STL
143 KB
148 - Blinklicht Halter mit Support.STL
154 KB
150 - LED Schirm.STL
24.1 KB
151- LED Schirmkappe.STL
8.48 KB
152 - Scheinwerfer.STL
385 KB
160 - Schneidevorlage Vorne.STL
20.4 KB
120a - Pulley Halter 10mm Lager.STL
24.3 KB
123c - Getriebehalterclip 23mm.STL
17.7 KB
128 - Schaufel Seite Rechts.STL
301 KB
129 - Schaufelhalter Unten.STL
251 KB
132 - Halter Heckboden Vorne.STL
129 KB
135 - Kabinenhalter Links.STL
79.4 KB
147 - Gelaender.STL
30.2 KB
149 - Blinklicht Glas.STL
138 KB
153 - Scheinwerferglas.STL
91.1 KB
157 - Fensterdichtung Hinten.STL
7.11 KB
102 - Felge klein mit Support.STL
220 KB
111 - Antriebsrad.STL
149 KB
116 - Schaufel Halter.STL
150 KB
119a - Getriebe Links 10mm Lager.STL
299 KB
122b - GT2 Motor 10.STL
587 KB
124 - Raupensegment mit Support.STL
462 KB
154 - Fensterdichtung Seite Links.STL
136 KB
158 - Fensterdichtung Dach.STL
21 KB
163 - Schneidevorlage Seite.STL
29.6 KB
102 - Felge klein.STL
201 KB
103 - Federgelenk.STL
83.9 KB
111 - Antriebsrad mit Support.STL
183 KB
113 - Seite Hinten Rechts.STL
534 KB
118a - Getriebe Rechts 10mm Lager.STL
301 KB
119 - Getriebe Links 14mm Lager.STL
299 KB
122 - GT2 Motor 12.STL
441 KB
123 - Getriebehalterclip 20mm.STL
18.1 KB
123d - Getriebehalterclip 24mm.STL
18.2 KB
125 - Raupenfuehrung.STL
148 KB
126 - Schaufel Mitte.STL
854 KB
130 - Schaufelhalter Oben.STL
934 KB
Montageanleitung PistenBully.pdf
8.24 MB
126a - Schaufel Halbe Rechts.STL
206 KB
124a - Raupensegment Drittel.STL
226 KB
126b - Schaufel Halbe Links.STL
216 KB
Riemen 200er Optimiert.STL
10.7 MB
Riemen 125 Optimiert.STL
6.83 MB