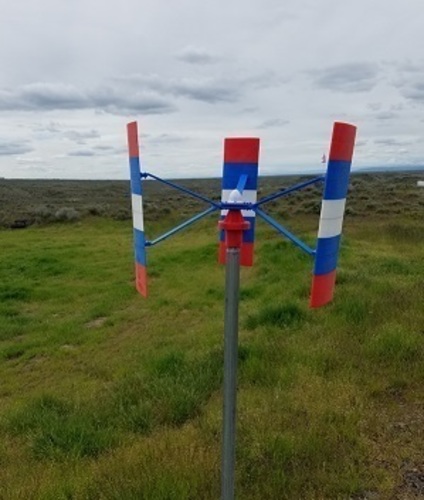 No Prints Yet

Be the first to upload a Print for this Design!
This is a test part for a vertical axis wind turbine I modified a NACA0015 symmetrical airfoil to a asymmetric airfoil.
Airfoil will need to be epoxied together I will use this one to drive a small electric motor that will charge at about 6 volts at 100rpm. Using a 2.2 gear reduction(32 pitch pinion gears rc cars). The Youtube video was the first try. It handled 24mph winds but blew the blades off at 30+mph. I added more material at the break point. The final goal is to build a full size turbine(400%) to help supply power to my house. I'm using 20mm OD 9mm ID bearings. A steel axle needs to be fabricated about 100-120mm long. A threaded rod can also be used as an axle.   All parts are printed as follows: 1.75 filament, .4 nozzle, .2 layer, honeycomb infill .5, PLA Temp 205deg extruder 65deg bed for first layer Temp 200deg extruder 60deg bed for first layer Speeds 30 perimeter  60 infill(default speeds) Perimeter layers 4 Top and bottom 5 Blades are printed with above settings except as noted below. Blade center: Perimeter layers 3 Top and bottom layers 0 rectilinear infill .2 Blade end: Perimeter layers 3 Top and bottom layers 3 rectilinear infill .2 Blade mount: Perimeter layers 3 Top and bottom layers 4 rectilinear infill .4 The only support required is for the BearingMount and NoseCone. Blade assembly: for a 210mm blade you need to print one of each of the parts labeled "Blade______".  For a 360mm blade you'll need 3 "BladeCenter" pieces. These will 1 between BladeMounts and 1 each side between BladeMount and BladeEnd. MotorHousing uses 4 top and bottom layers 3 perimeter layers and a .35 layer height. Forgot to mention the hub is not symmetrical. This is so I can find the best angle of attack for the blades. The set now is the trailing edge is about 4mm larger in radius than the leading edge.