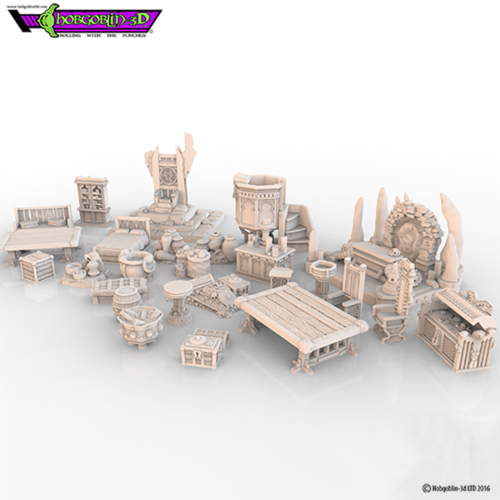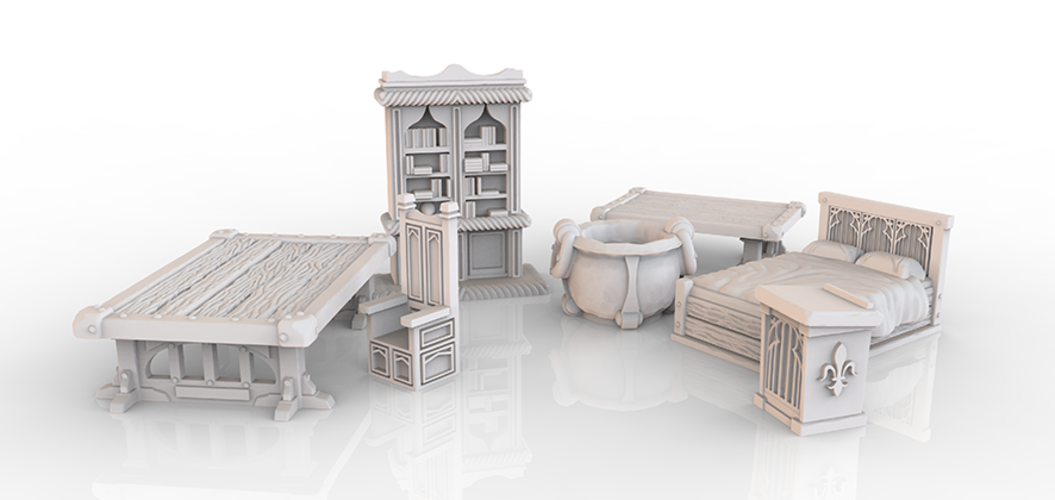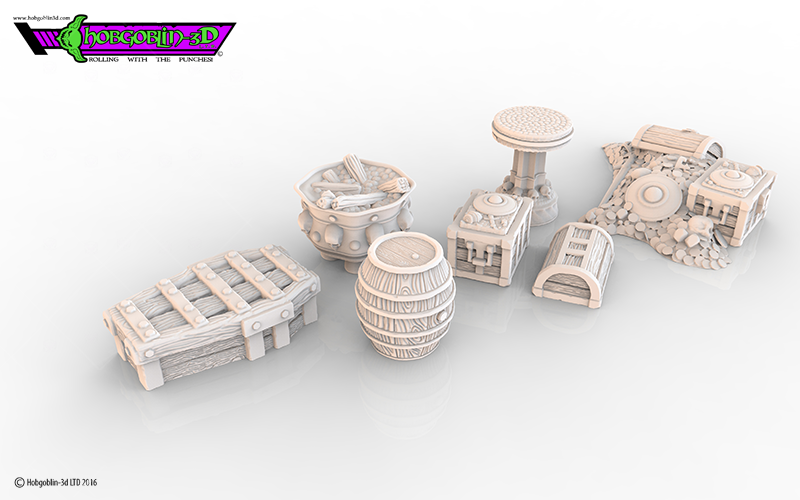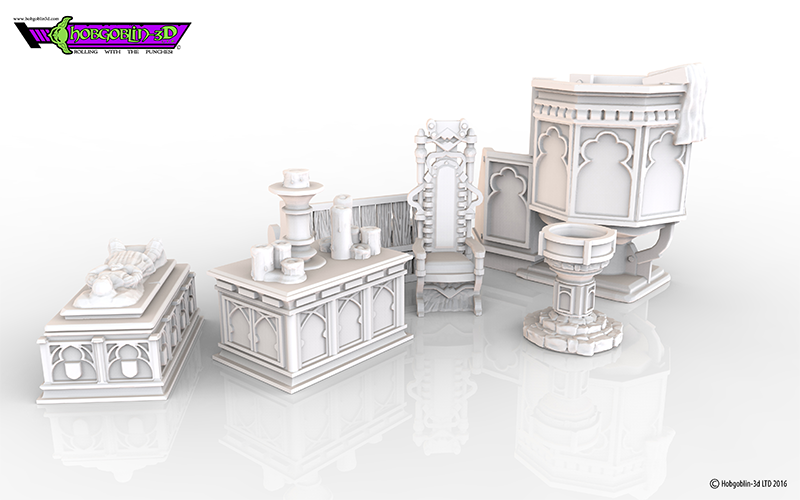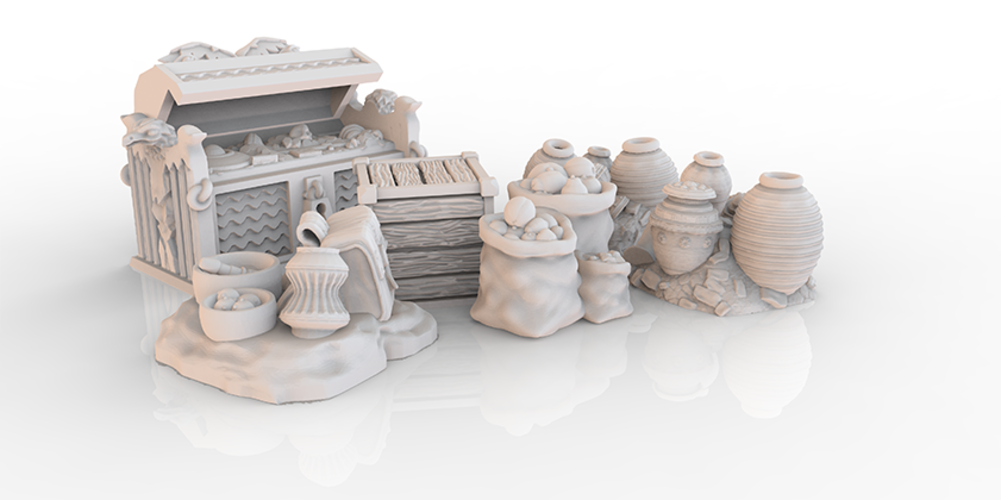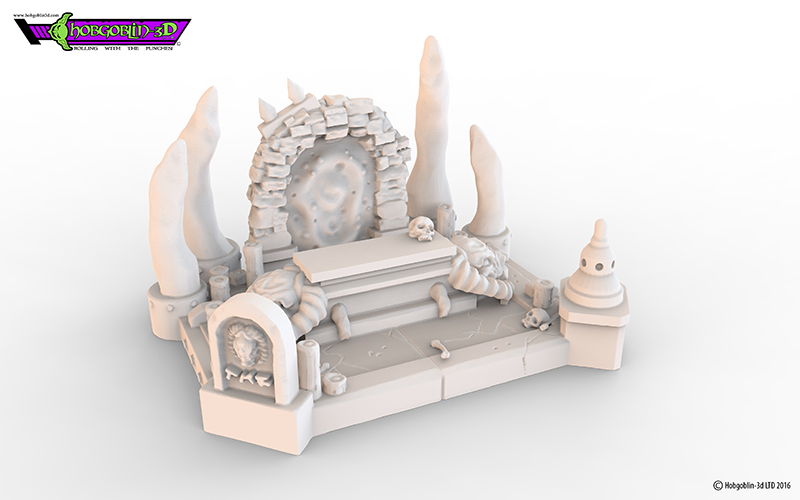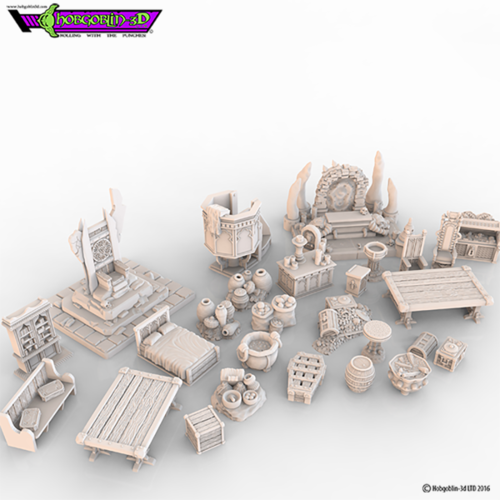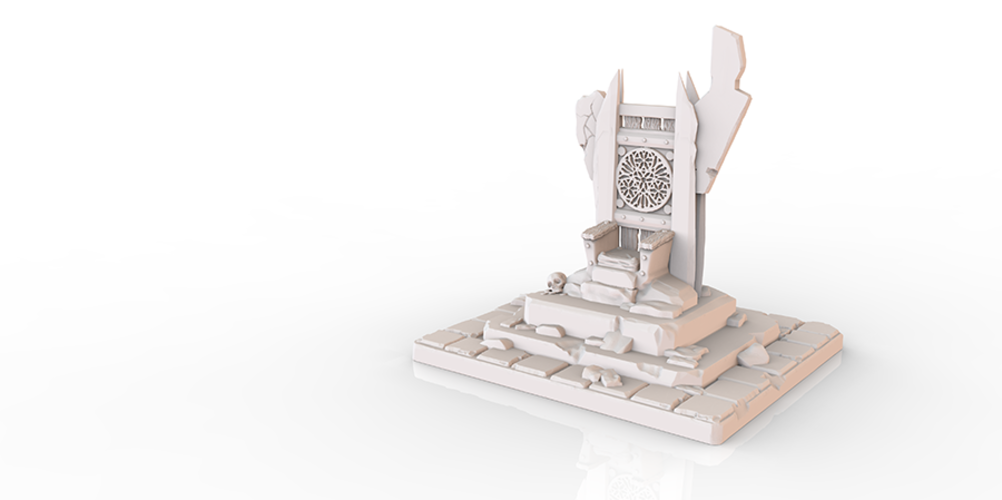 No Prints Yet

Be the first to upload a Print for this Design!
As 2016 has come to an end, we at Hobgoblin-3D have decided to bundle up all of last years items into one MEGA PROP PACK! And whats more its even cheaper than buying the packs and features separately! As always each item is scaled for 28mm play 
Inside the pack you will find a .STL files and an instruction manual. Once bought you can print off each item as many times as you please providing the ultimate value for your money!
This pack includes:
HG3D_Worship_Altar
HG3D_Worship_Sarcophagus
HG3D_Worship_Font
HG3D_Worship_ComfyChair
HG3D_Worship_Pew
HG3D_Worship_Pulpit
HG3D_Dungeon_Coffin
HG3D_Dungeon_Chest
HG3D_Dungeon_Brazier
HG3D_Dungeon_Barrel
HG3D_Dungeon_TreasurePile
HG3D_Dungeon_ItemPedestal
HG3D_Storage_GrandChest
HG3D_Storage_Urns_GroupOne
HG3D_Storage_Urns_GroupTwo
HG3D_Storage_Sacks
HG3D_Storage_Satchels
HG3D_Storage_Crate
HG3D_Household_Bed
HG3D_Household_Bookcase
HG3D_Household_Chair
HG3D_Household_Table_Small
HG3D_Household_Table_Large
HG3D_Household_Lecturn
HG3D_Household_Cauldron
HG3D_Throne_Of_Forlorn
HG3D_Nexus_Of_The_Damned
T&Cs
Instruction Manuals
HG3D_DungeonBasic_Barrel.stl
2.15 MB
HG3D_DungeonBasic_Barrel_Instructions.pdf
3.06 MB
HG3D_DungeonBasic_Brazier.stl
3.22 MB
HG3D_DungeonBasic_Brazier_Instructions.pdf
3.1 MB
HG3D_DungeonBasic_Chest.stl
2.39 MB
HG3D_DungeonBasic_Chest_Instructions.pdf
3.11 MB
HG3D_DungeonBasic_Coffin.stl
5.16 MB
HG3D_DungeonBasic_Coffin_Instructions.pdf
3.11 MB
HG3D_DungeonBasic_ItemPedestal.stl
4.39 MB
HG3D_DungeonBasic_ItemPedestal_Instructions.pdf
3.54 MB
HG3D_DungeonBasic_TreasurePile.stl
4.15 MB
HG3D_DungeonBasic_TreasurePile_Instructions.pdf
3.12 MB
HG3D_FeatureAsset_Nexus_of_the_Damned_Instructions.pdf
3.97 MB
HG3D_FeatureAsset_Throne.stl
5.17 MB
HG3D_FeatureAsset_Throne_Instructions.pdf
4.75 MB
HG3D_Household_Bed.stl
3.5 MB
HG3D_Household_Bed_Instructions.pdf
2.51 MB
HG3D_Household_Bookcase.stl
4.53 MB
HG3D_Household_Bookcase_Instructions.pdf
3.18 MB
HG3D_Household_Cauldron.stl
1.08 MB
HG3D_Household_Cauldron_Instructions.pdf
3.15 MB
HG3D_Household_Chair.stl
331 KB
HG3D_Household_Chair_Instructions.pdf
3.17 MB
HG3D_Household_LargeTable.stl
2.01 MB
HG3D_Household_Lectern.stl
409 KB
HG3D_Household_Lectern_Instructions.pdf
3.16 MB
HG3D_Household_SmallTable.stl
1.68 MB
HG3D_Household_Tables_Instructions.pdf
4.06 MB
HG3D_Nexus_Of_The_Damned.stl
8.27 MB
HG3D_Storage_Crate.stl
528 KB
HG3D_Storage_Crate_Instructions.pdf
3.15 MB
HG3D_Storage_GrandChest.stl
3.56 MB
HG3D_Storage_GrandChest_Instructions.pdf
3.62 MB
HG3D_Storage_Sacks.stl
1.25 MB
HG3D_Storage_Sacks_Instructions.pdf
3.15 MB
HG3D_Storage_Satchels.stl
1.88 MB
HG3D_Storage_Satchels_Instructions.pdf
3.14 MB
HG3D_Storage_Urns1.stl
3.26 MB
HG3D_Storage_Urns1_Instructions.pdf
3.15 MB
HG3D_Storage_Urns2.stl
3.04 MB
HG3D_Storage_Urns2_Instructions.pdf
3.15 MB
HG3D_Worship_Altar_Instructions.pdf
3.1 MB
HG3D_Worship_Alter.stl
1.21 MB
HG3D_Worship_ComfyChair.stl
366 KB
HG3D_Worship_ComfyChair_Instructions.pdf
3.48 MB
HG3D_Worship_Font.stl
1.85 MB
HG3D_Worship_Font_Instructions.pdf
3.5 MB
HG3D_Worship_Pew.stl
3.71 MB
HG3D_Worship_Pew_Instructions.pdf
3.59 MB
HG3D_Worship_Pulpit.stl
2.38 MB
HG3D_Worship_Pulpit_Instructions.pdf
3.6 MB
HG3D_Worship_Sarcophagus.stl
2.87 MB
HG3D_Worship_Sarcophagus_Instructions.pdf
4.49 MB
Hobgoblin-3DLTD_Terms&Conditions.pdf
192 KB