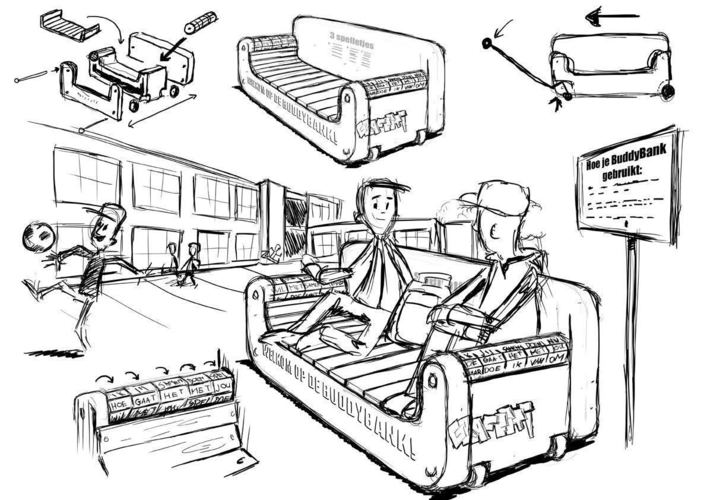 No Prints Yet

Be the first to upload a Print for this Design!
Fun model of a coach (scalable) to help kids learning words and grammar using the side spindles to produce sentences and words. Kan easy be changed and edit to add new words and sentences. 
Model is 100% 3D printer ready for PETG or PLA. ABS is not recommended. 
BuddyBank - Voorkant-1.STL
462 KB
BuddyBank - Plank-8.STL
31.1 KB
BuddyBank - Plank-4.STL
31.1 KB
BuddyBank - Middle assembly-1 Wheel-5.STL
453 KB
BuddyBank - BuddyBank_Spindle_Rechts_assembly-1 Spindel_3_rechts-1.STL
875 KB
BuddyBank - BuddyBank_Spindle_Rechts_assembly-1 Spindel 2 rechts-1.STL
1.05 MB
BuddyBank - BuddyBank_Spindle_Rechts_assembly-1 As_Spindel-1.STL
7.5 KB
BuddyBank - Plank-14.STL
31.1 KB
BuddyBank - Plank-13.STL
31.1 KB
BuddyBank - Plank-12.STL
31.1 KB
BuddyBank - Plank-10.STL
31.1 KB
BuddyBank - Plank-7.STL
31.1 KB
BuddyBank - Achterkant-1.STL
66.6 KB
BuddyBank - BuddyBank_Spindle_Links_assembly-2 As_Spindel-1.STL
7.5 KB
BuddyBank - BuddyBank_Spindle_Links_assembly-2 Spindel_1_links-1.STL
1.1 MB
BuddyBank - BuddyBank_Spindle_Links_assembly-2 Spindel_2_links-1.STL
883 KB
BuddyBank - BuddyBank_Spindle_Links_assembly-2 Spindel_3_links-1.STL
762 KB
BuddyBank - BuddyBank_Spindle_Links_assembly-2 Spindel_4_links-1.STL
907 KB
BuddyBank - BuddyBank_Spindle_Links_assembly-2 Spindel_5_links-1.STL
953 KB
BuddyBank - BuddyBank_Spindle_Rechts_assembly-1 Spindel 1 rechts-1.STL
818 KB
BuddyBank - BuddyBank_Spindle_Rechts_assembly-1 Spindel 4 rechts-1.STL
1.23 MB
BuddyBank - BuddyBank_Spindle_Rechts_assembly-1 Spindel 5_1 rechts-1.STL
1.11 MB
BuddyBank - Middle assembly-1 Middlepart-1.STL
88.4 KB
BuddyBank - Middle assembly-1 Wheel-1.STL
453 KB
BuddyBank - Middle assembly-1 Wheel-3.STL
453 KB
BuddyBank - Middle assembly-1 Wheel-4.STL
453 KB
BuddyBank - Plank-1.STL
31.1 KB
BuddyBank - Plank-2.STL
31.1 KB
BuddyBank - Plank-3.STL
31.1 KB
BuddyBank - Plank-5.STL
31.1 KB
BuddyBank - Plank-6.STL
31.1 KB
BuddyBank - Plank-9.STL
31.1 KB
BuddyBank - Plank-11.STL
31.1 KB