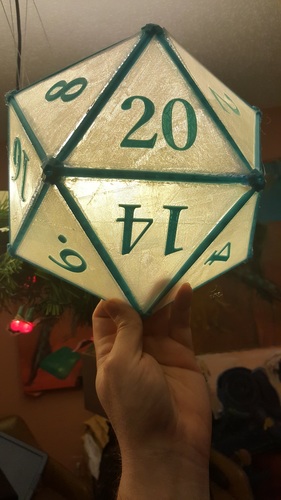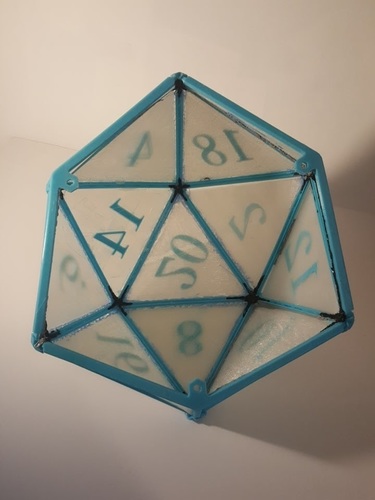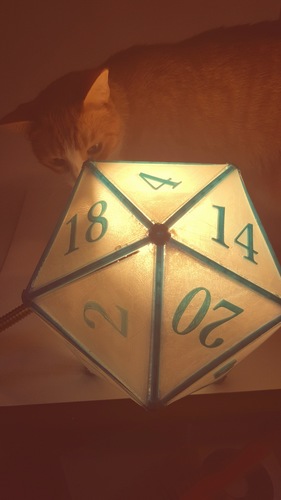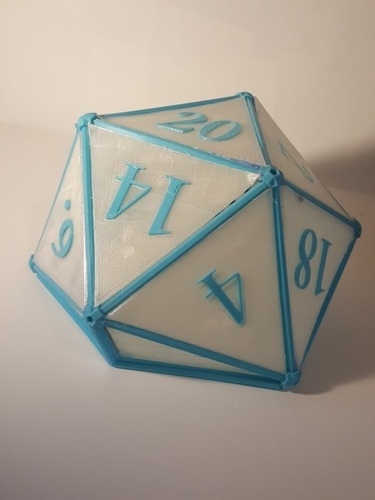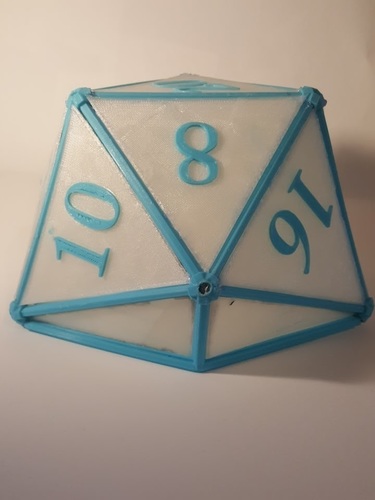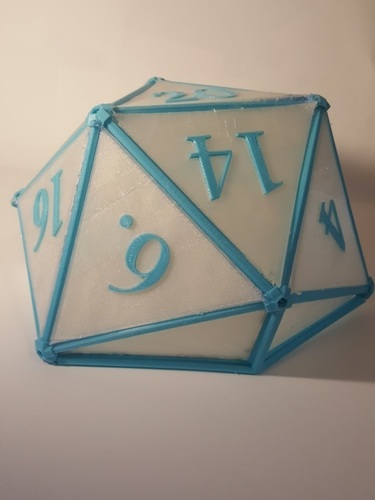 No Prints Yet

Be the first to upload a Print for this Design!
This is half of a D20 dice, commonly used in D&D and other RPG's.  I originally built this to put together with my 3dDoodler pen, but it could be glued together with other techniques.  My 3d printer is a PLA modified Replicator 2X, with layer height of 0.24mm for most parts, excepting the 5 way joints, which can split if you apply too much angular pressure.  I printed those at 0.14mm height.
I used natural (clear) esun PLA for the Triangles and turquoise blue PLA for everything else.  If you only have one extruder, just print the numbers separately and glue them into the panels.
Please be sure to look over the final images for ideas on how it all goes together.  Also, use only with LED lightbulbs, for safety and economy. 
For a better resolution instruction manual, please become a Patreon of me! https://www.patreon.com/posts/...
RackMultipart20170116-72-1tjtm0m.zip/Icosah_Small_Sidepanels.stl
1.25 KB
D20_LampShadeKit.obj
1.86 MB
RackMultipart20170116-72-1tjtm0m.zip/10.STL
29.4 KB
RackMultipart20170116-72-1tjtm0m.zip/14.STL
34.7 KB
RackMultipart20170116-72-1tjtm0m.zip/16.STL
36.6 KB
RackMultipart20170116-72-1tjtm0m.zip/18.STL
41.3 KB
RackMultipart20170116-72-1tjtm0m.zip/2.STL
23.5 KB
RackMultipart20170116-72-1tjtm0m.zip/20.STL
36 KB
RackMultipart20170116-72-1tjtm0m.zip/4.STL
17.9 KB
RackMultipart20170116-72-1tjtm0m.zip/6.STL
25.8 KB
RackMultipart20170116-72-1tjtm0m.zip/8.STL
24.5 KB
RackMultipart20170116-72-1tjtm0m.zip/Icosa_10.STL
31.6 KB
RackMultipart20170116-72-1tjtm0m.zip/Icosa_14.STL
42.9 KB
RackMultipart20170116-72-1tjtm0m.zip/Icosa_16.STL
39.4 KB
RackMultipart20170116-72-1tjtm0m.zip/Icosa_18.STL
43.4 KB
RackMultipart20170116-72-1tjtm0m.zip/Icosa_2.STL
24.8 KB
RackMultipart20170116-72-1tjtm0m.zip/Icosa_20.STL
37.5 KB
RackMultipart20170116-72-1tjtm0m.zip/Icosa_4.STL
18.2 KB
RackMultipart20170116-72-1tjtm0m.zip/Icosa_6.STL
26.5 KB
RackMultipart20170116-72-1tjtm0m.zip/Icosa_8.STL
24.7 KB
RackMultipart20170116-72-1tjtm0m.zip/Icosah_BottomPrint3.stl
15.7 KB
RackMultipart20170116-72-1tjtm0m.zip/Icosah_LONGEDGE.stl
37.4 KB
RackMultipart20170116-72-1tjtm0m.zip/Icosah_Penta_connects.stl
9.46 KB