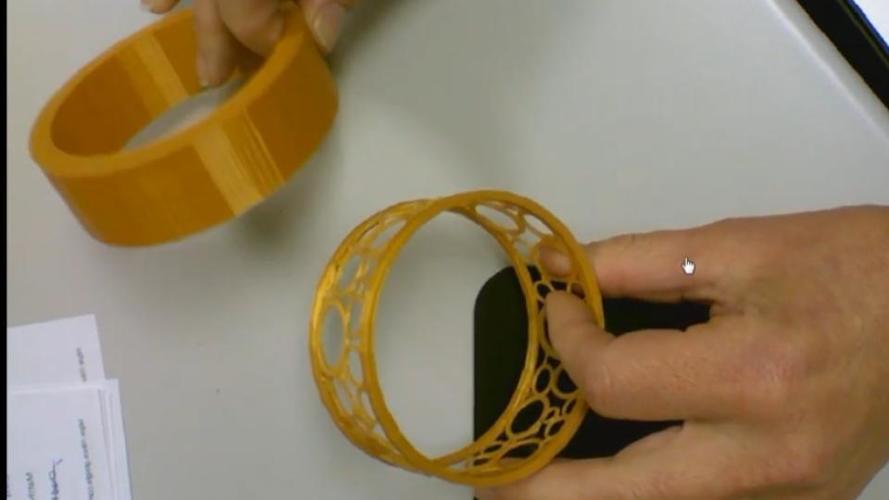 No Prints Yet

Be the first to upload a Print for this Design!
Wearable Geometry Lesson Plan
This is designed for an entry level high school geometry course.
The design is for the simple bangle on the left.
This design is so simple, it is the process that I have focused on in the lesson plan included.  The students are required to design a wearable item.  The item has to fit properly when completed.  This design is a bangle, which is as simple as it comes.  However, it isn't so simple when considering that it needs to fit over your hand, but not fall off your hand.  It takes planning and thought.
Students are encouraged to design something that they would wear - nose ring, belt buckle, ear cuff, toe ring and the list goes on. Any product that is designed to specifications takes planning.  The students are required to take measurements and perform calculations that would be needed for the design.  Students will have to consider the difference between inner and outer diameter for most items.  
The design that has been  included shows the simplest of items.  But the video of the final product shows a comparison between the simple bangle as an example and a very ornate bangle that a student designed.  The student was only required to do the simplest of tasks - he could have done a simple bangle.  But he wanted to make something fantastic for his girlfriend.  The project was authentic to him.  Take a look - you will be impressed with this student's first attempt at computer aided design.   
There are suggestions for extending the lesson as well as ideas that would require more detailed calculations, such as predicting amount of filament required to print design.  
There are links throughout the lesson plan to videos that have been created to show the thought process needed in the design process.  
WearableGeometrylessonplan.pdf
130 KB
Example Bangle - Wearable Geometry.stl
6.14 KB