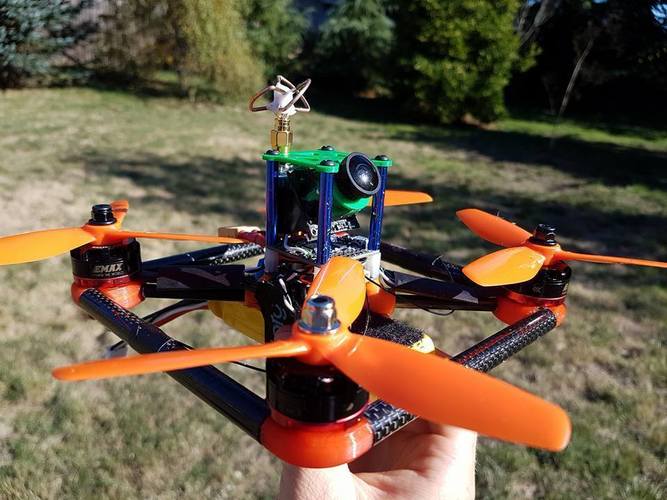 Summary This is a redesign to add features to the Uber and make it more printable.
Mid:
Modifies the design for print-ability. No support is necessary. Original was hard to print and required support. It has been modified to have the cross spars for the battery strap at the bottom, so they can print right on your bed. I also included one with bigger tube holes because mine came out a bit too small and I feel that drilling is redundant. Please let me know how these work for you.
Top:
Adds an SMA connection hole to the top plate of the Uber 180. Needed to protect your vtx and also a good way to mount the vtx without any other fasteners. Also removed rounded corners to make printing easier. Top With Cam Mount:
Added a camera mounting hole for standard size FPV cams. It is angled at 40 or 30 deg, depending which file you choose. Please let me know if you want a different angle, or a different camera size. I tried to make it user configurable, but it just wasn't possible. Motor Mount:
Added a small guard piece to the motor mount. Should protect the motors from most impacts from the side. Not sure these are big enough for my rs2205s, haven't checked yet. Please check against your motors before printing a full set.
Notes
Materials Nylon 910 is the recommended material. Well printed PLA might be strong enough. Printing Go slow and hot to insure good bonding. Thin layers are recommended for strength, depending on your material. Motor mounts will require a little bit of support under the pegs. Other than that, all of my files should print as is, unlike the original design. Assembly Print,  cut your tube to match the sizes of the original uber180, fit it all together and make sure motor mounts are all FLAT against the table, and glue.
Uber180-Motor-WithGuardv2.stl
655 KB
Uber180-Top-CamMount27-HoleOnRightWithLipForAomway200.stl
339 KB
Uber180-Top-CamMount30.stl
123 KB
Uber180-Top-CamMount35-HoleOnRightWithLipForAomway200.stl
348 KB
Uber180-Top-CamMount35.stl
127 KB
Uber180-Top-CamMount40.stl
126 KB
UberMidRedesignWiderHoles.STL
2.14 MB
Uber180-Top-Redesign.stl
93.8 KB