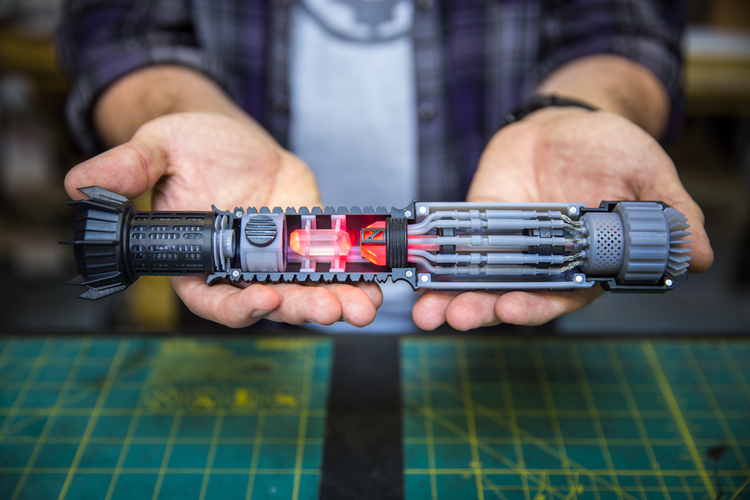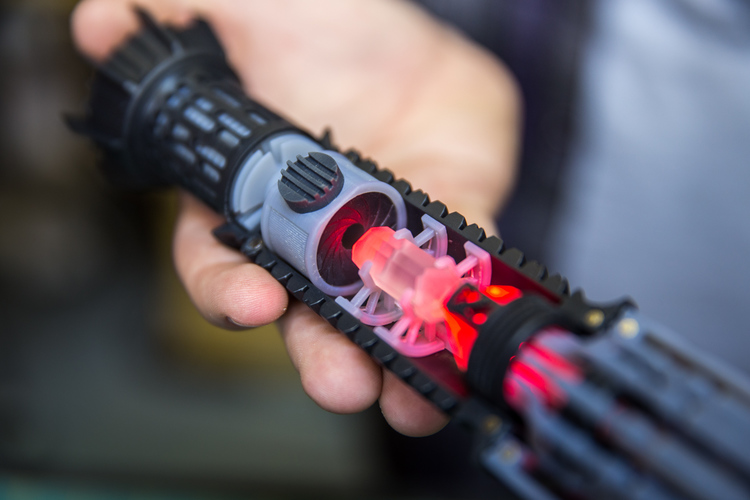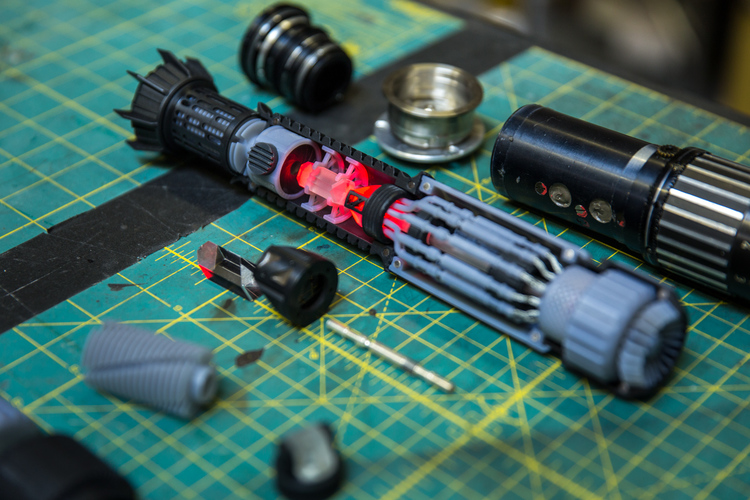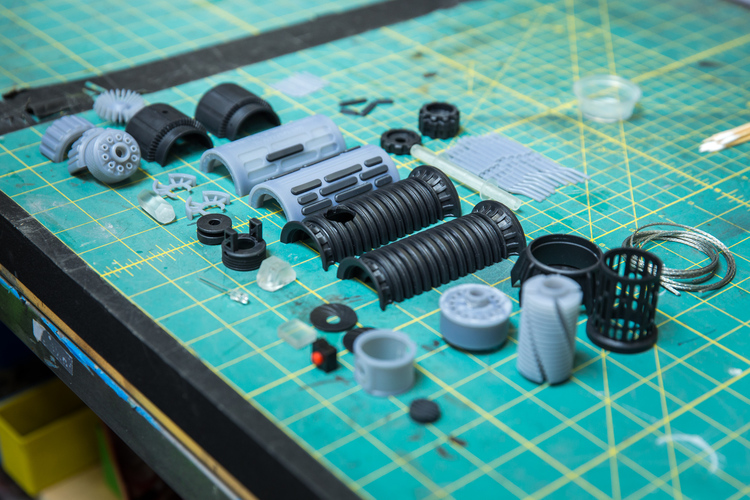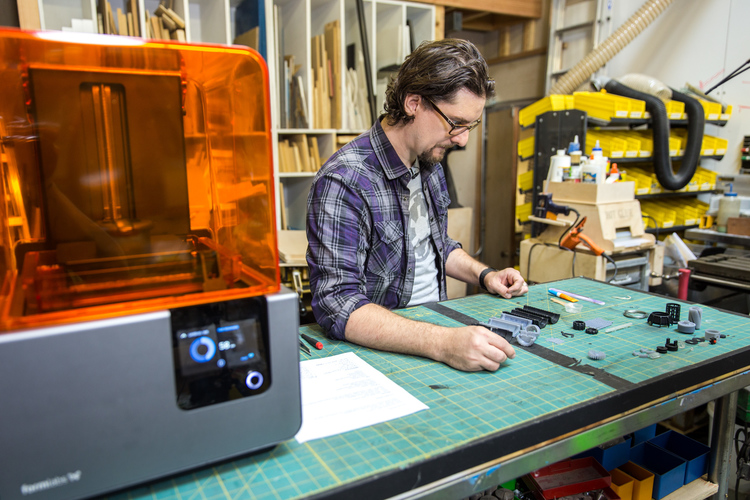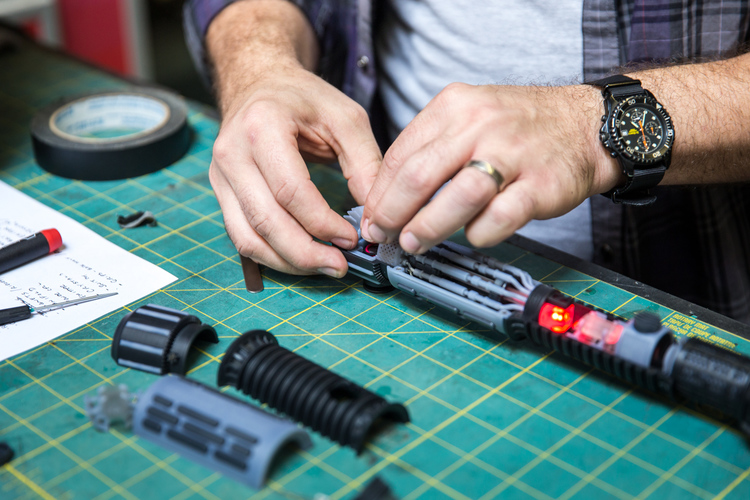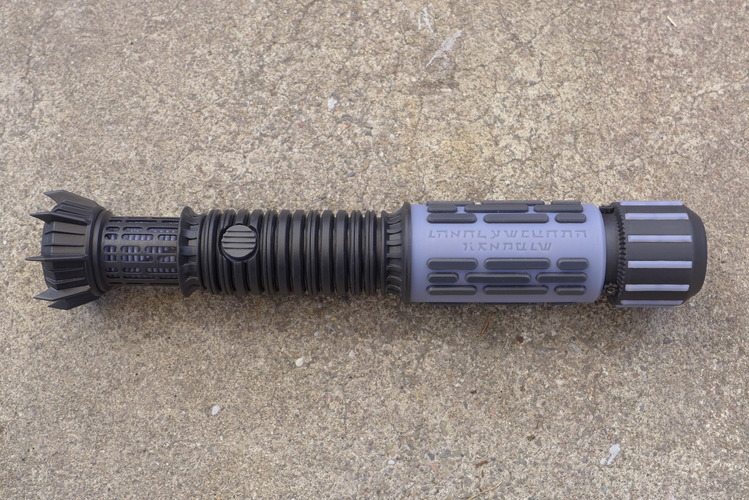 I sometimes have electronics/hardware packs for the saber in my shop.
UPDATE 1/29/17: new simplified parts added for less assembly or easier prints. Includes: fatter, simpler cooling fins, pommel with gears and ridges integrated and one-piece manifold.  Focus crystal mount updated to v2 with a slot in the back for easier wiring.
Print Guide updated to v4 to reflect updated parts. 
NEW Assembly Guide v5 - more pictures, more in-depth, much better wiring process
WATCH Bill Doran of Punished Props and 3D Printing Nerd - Joel Telling - assemble and paint my saber.
Forge your own saber and be an apprentice no longer!
This is a custom cutaway saber hilt designed to print on the Form 2 SLA printer.  It takes advantage of the Form 2's high-resolution and multiple materials to make a piece that looks great right out of the printer.
The saber is designed to be glued together with the cutaway portions held in place via magnets.  The saber can be lit up with your choice of LED - with a rechargeable battery system hidden in the pommel. 
A print guide with recommended resins and settings, as well as a hardware list is included with the file download. Most of the parts look great at .1mm layer thickness and I have designed custom supports for most everything for optimal printing.
The PreForm layout files can be downloaded here.
The saber can be sanded and painted if desired - checkout Formlabs Finishing Guide.
See how to assemble the saber on Tested.
Watch how my cutaway saber was designed.
crystal-focus.stl
66.5 KB
cooling_fins_housing.stl
2.31 MB
emitter_housing.stl
2.38 MB
grip_bottom_FRONT.stl
1.16 MB
grip_top_REAR.stl
3.37 MB
grip_bottom_REAR.stl
993 KB
pommel_ridge_LG_x11.stl
2.62 KB
grip_pad_LG_x12.stl
48.5 KB
manifold_center_tube.stl
93.8 KB
grip_pad_MD_x12.stl
48.5 KB
switch_button_v2.stl
101 KB
grip_pad_SM_x12.stl
48.5 KB
manifold_hub_bottom.stl
1.85 MB
grip_top_FRONT.stl
3.28 MB
manifold_hub_top.stl
669 KB
pommel-gear_x3.stl
39.7 KB
manifold_pipe_x10.stl
901 KB
power_cell_FRONT.stl
307 KB
switch_button_v1.stl
115 KB
switch-iris_x2.stl
1.11 MB
crystal-main_clamp_x2.stl
313 KB
pommel_ridges_SM.stl
16.1 KB
power_cell_REAR.stl
2.74 MB
switch_housing.stl
463 KB
Saber_Assembly_v5.pdf
8.7 MB
Saber_Print_Guide_v4.pdf
59.1 KB
manifold_SIMPLE.stl
9.93 MB
pommel_SIMPLE_REAR.stl
428 KB
cooling_fins_SIMPLE.stl
1.49 MB
crystal-focus_mount_v2.stl
693 KB
pommel_gears_SIMPLE_FRONT.stl
436 KB
pommel_gears_SIMPLE_REAR.stl
511 KB
pommel_SIMPLE_FRONT.stl
394 KB