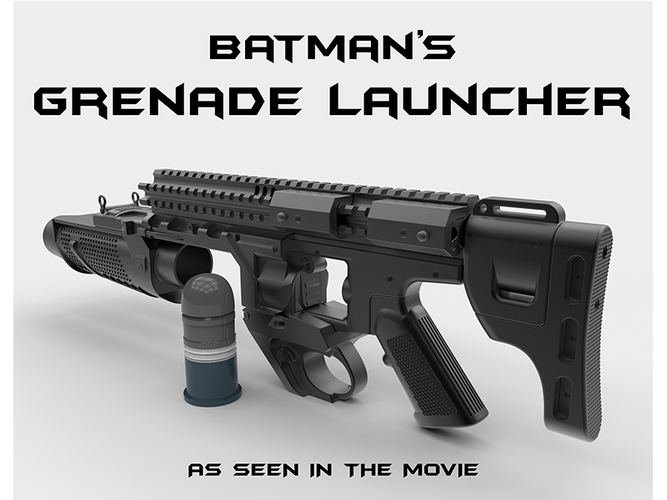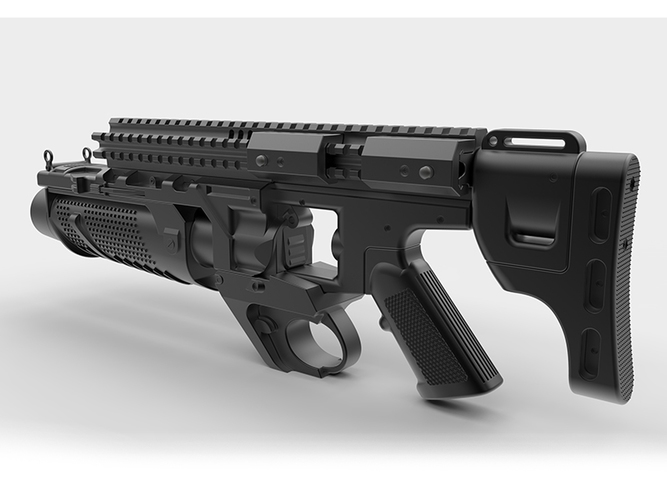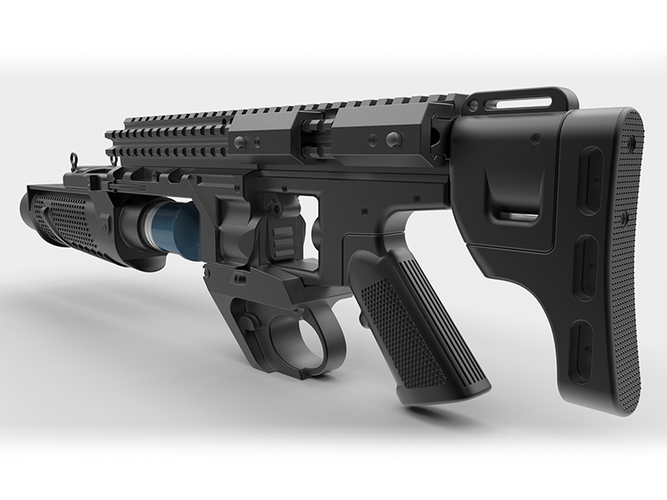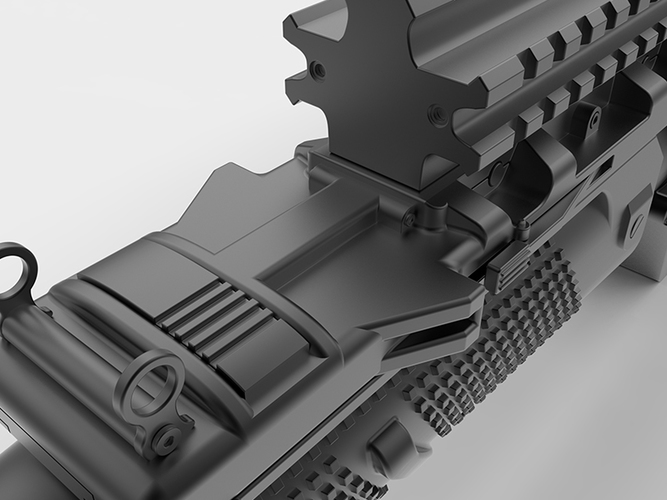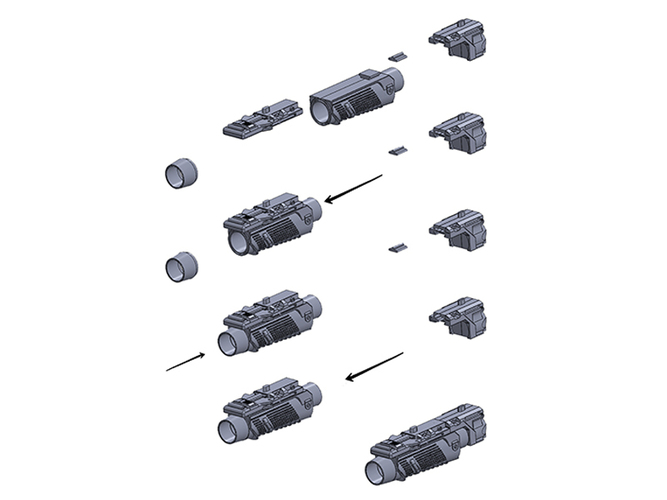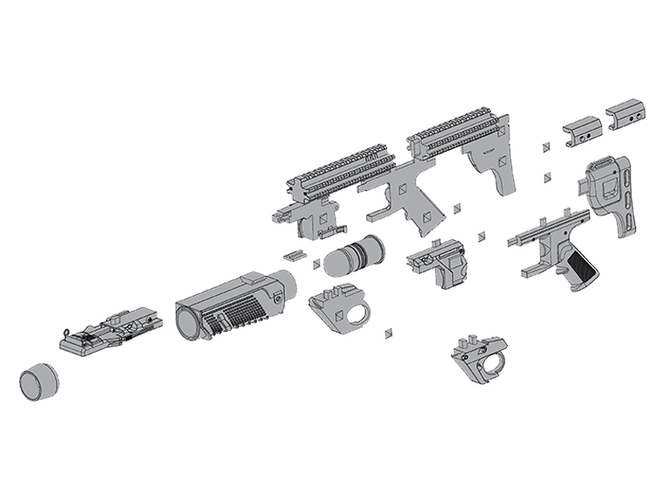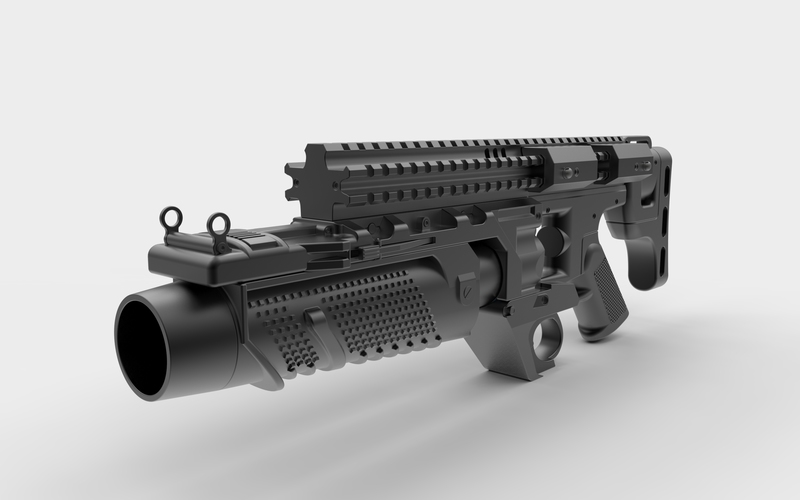 Here I proudly present Batman's grenade launcher as used in the new movie Batman vs Superman. Modeled to be as accurate and detailed as possible, this replica gun even features a movable barrel to which you can "reload" with the included grenade round. 
This gun was definitely a challenge to do and took around 50+ hours to complete, but I think it turned out quite nice. I also designed it to minimize the amount of support material needed as well as building "internal" joints to lower the amount of pins required for this gun. 
I have included pictures showing how to assemble certain areas and I made a quick little animation showing how the barrel mechanism works. You can view that here. Assembly shouldn't be too hard; just look at the pictures for reference and you should be fine.
Like I said, this gun took quite a while to do, so much in fact that I am posting this 4 hours before the close of the contest, so WHEW! I made it! Anyways, thanks again for checking out my design, and if you would like to see more cool stuff, just head over to my website here ;) Thanks!
Grenade Launcher PNG.jpg
1.09 MB
Grenade Launcher Instructions3.jpg
2.4 MB
Grenade Launcher Instructions2.jpg
1.22 MB
Batman's Grenade Launcher - Barrel Pin3-1.STL
7.31 KB
Batman's Grenade Launcher - Key1-1.STL
484 Bytes
Batman's Grenade Launcher - Railing Pin-1.STL
11.4 KB
Batman's Grenade Launcher - Stock Key2-1.STL
484 Bytes
RackMultipart20160611-12627-1bd2mkk.zip/Batman Grenade Launcher.STL
54.2 MB
RackMultipart20160611-12627-1bd2mkk.zip/Batman's Grenade Launcher - Front Body1-1.STL
2.55 MB
RackMultipart20160611-12627-1bd2mkk.zip/Batman's Grenade Launcher - Muzzle1-1.STL
282 KB
RackMultipart20160611-12627-1bd2mkk.zip/Batman's Grenade Launcher - Barrel1-1.STL
10.2 MB
RackMultipart20160611-12627-1bd2mkk.zip/Batman's Grenade Launcher - Button1-1.STL
203 KB
RackMultipart20160611-12627-1bd2mkk.zip/Batman's Grenade Launcher - Railing2-1.STL
6.13 MB
RackMultipart20160611-12627-1bd2mkk.zip/Batman's Grenade Launcher - Barrel2-1.STL
10.2 MB
RackMultipart20160611-12627-1bd2mkk.zip/Batman's Grenade Launcher - Grenade-1.STL
1.17 MB
RackMultipart20160611-12627-1bd2mkk.zip/Batman's Grenade Launcher - Handle1-1.STL
1.76 MB
RackMultipart20160611-12627-1bd2mkk.zip/Batman's Grenade Launcher - Lever1-1.STL
456 KB
RackMultipart20160611-12627-1bd2mkk.zip/Batman's Grenade Launcher - Lever2-1.STL
453 KB
RackMultipart20160611-12627-1bd2mkk.zip/Batman's Grenade Launcher - Middle Body2-1.STL
1.5 MB
RackMultipart20160611-12627-1bd2mkk.zip/Batman's Grenade Launcher - Rail Mount Hardware2-1.STL
463 KB
RackMultipart20160611-12627-1bd2mkk.zip/Batman's Grenade Launcher - Rail Mount1-1.STL
359 KB
RackMultipart20160611-12627-1bd2mkk.zip/Batman's Grenade Launcher - Rail Mount2-1.STL
363 KB
RackMultipart20160611-12627-1bd2mkk.zip/Batman's Grenade Launcher - Ring2-1.STL
655 KB
RackMultipart20160611-12627-1bd2mkk.zip/Batman's Grenade Launcher - Ring1-1.STL
655 KB
RackMultipart20160611-12627-1bd2mkk.zip/Batman's Grenade Launcher - Stock2-1.STL
1.41 MB
RackMultipart20160611-12627-1bd2mkk.zip/Batman's Grenade Launcher - Trigger1-1.STL
1.24 MB
RackMultipart20160611-12627-1bd2mkk.zip/Barrel Merged.STL
20.3 MB
RackMultipart20160611-12627-1bd2mkk.zip/Batman's Grenade Launcher - Barrel Merged-1.STL
20.3 MB
RackMultipart20160611-12627-1bd2mkk.zip/Batman's Grenade Launcher - Button2-1.STL
205 KB
RackMultipart20160611-12627-1bd2mkk.zip/Batman's Grenade Launcher - Handle2-1.STL
1.85 MB
RackMultipart20160611-12627-1bd2mkk.zip/Batman's Grenade Launcher - Middle Body1-1.STL
1.48 MB
RackMultipart20160611-12627-1bd2mkk.zip/Batman's Grenade Launcher - Rail Mount Hardware1-1.STL
453 KB
RackMultipart20160611-12627-1bd2mkk.zip/Batman's Grenade Launcher - Railing1-1.STL
7.52 MB
RackMultipart20160611-12627-1bd2mkk.zip/Batman's Grenade Launcher - Stock1-1.STL
1.55 MB
RackMultipart20160611-12627-1bd2mkk.zip/Batman's Grenade Launcher - Trigger2-1.STL
1.07 MB
Batman's Grenade Launcher - Barrel Pin1-1.STL
7.7 KB
Batman's Grenade Launcher - Barrel Pin2-1.STL
7.7 KB
Batman's Grenade Launcher - Key2-1.STL
484 Bytes
Batman's Grenade Launcher - Key3-1.STL
484 Bytes
Batman's Grenade Launcher - Stock Key1-1.STL
484 Bytes
Middle Body Key.STL
484 Bytes
Batman's Grenade Launcher Instructions.pdf
4.66 MB