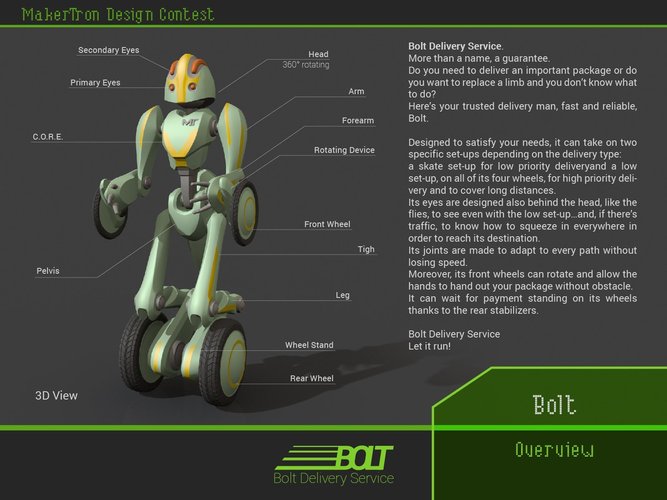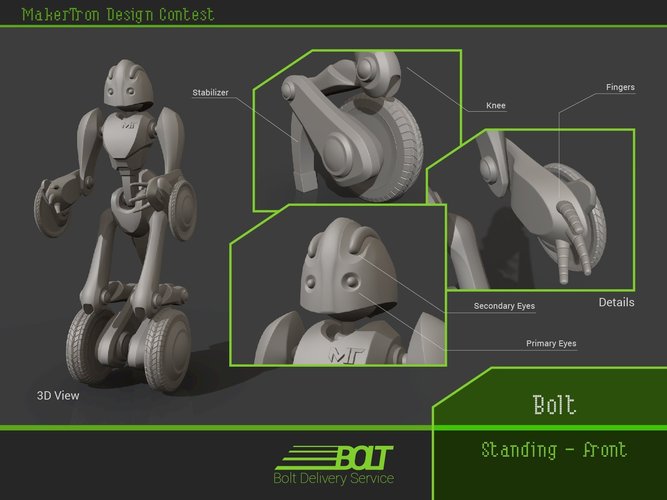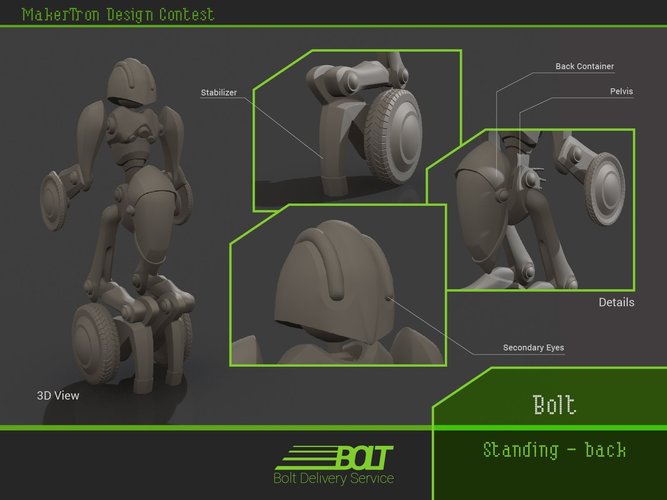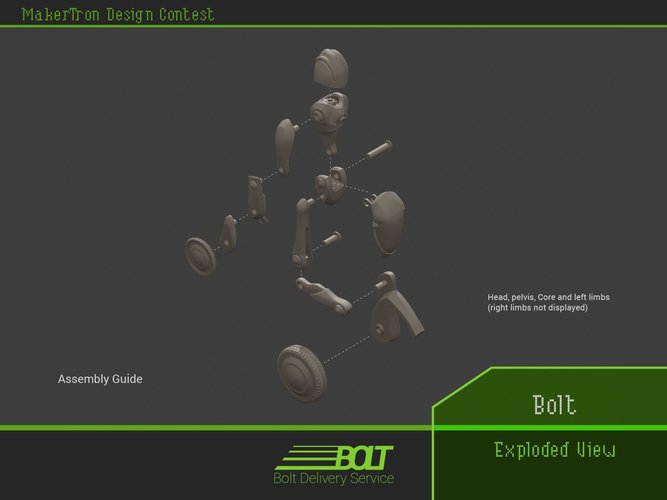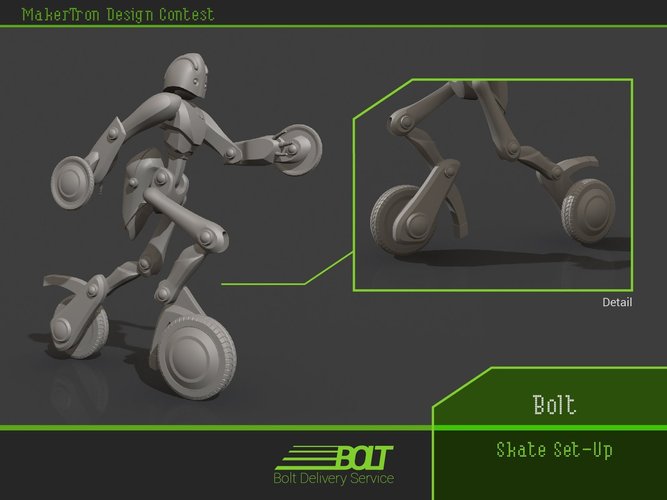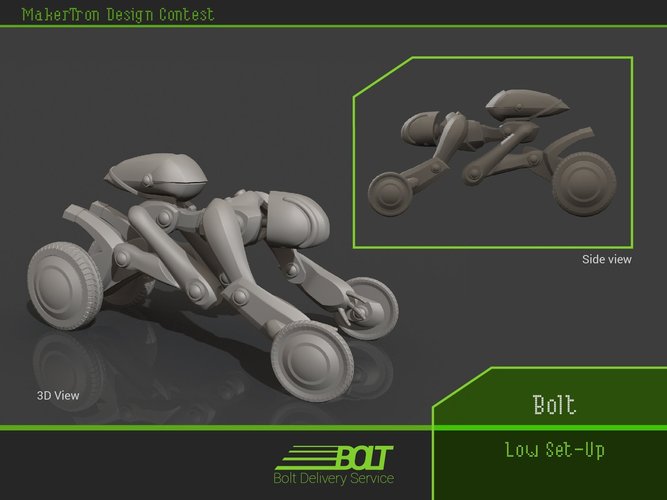 No Prints Yet

Be the first to upload a Print for this Design!
Bolt Delivery Service.
More than a name, a guarantee.
Do you need to deliver an important package or do you want to replace a limb and you don't know what to do?
Here's your trusted delivery man, fast and reliable, Bolt.
Designed to satisfy your needs, it can take on two specific set-ups depending on the delivery type: a skate set-up for low priority delivery and a low set-up, on all of its four wheels, for high priority delivery and to cover long distances.
Its eyes are designed also behind the head, like the flies, to see even with the low set-up…and, if there's traffic, to know how to squeeze in everywhere in order to reach its destination.
Its joints are made to adapt to every path without losing speed.
Moreover, its front wheels can rotate and allow the hands to hand out your package without obstacle.
It can wait for payment standing on its wheels thanks to the rear stabilizers.
Bolt Delivery Service
Let it run!
-------
Print settings:  this is the first time that I try to model something printable.
I don't have a 3D printer unfortunately and I couldn't test the model.
I followed the tutorials and designed the character as best I could anyway.
I hope it works!
RackMultipart20151015-11305-1wrt7of.zip/Back_Container.obj
3.16 MB
RackMultipart20151015-11305-1wrt7of.zip/Head.obj
3.49 MB
RackMultipart20151015-11305-1wrt7of.zip/Hip.obj
2.71 MB
RackMultipart20151015-11305-1wrt7of.zip/Hip_Pin.obj
684 KB
RackMultipart20151015-11305-1wrt7of.zip/Left_Arm.obj
1.54 MB
RackMultipart20151015-11305-1wrt7of.zip/Left_Forearm.obj
3.89 MB
RackMultipart20151015-11305-1wrt7of.zip/Left_Leg.obj
2.34 MB
RackMultipart20151015-11305-1wrt7of.zip/Left_Thigh.obj
2.39 MB
RackMultipart20151015-11305-1wrt7of.zip/Left_Thing_pin.obj
499 KB
RackMultipart20151015-11305-1wrt7of.zip/Left_Wheel_Arm.obj
1.28 MB
RackMultipart20151015-11305-1wrt7of.zip/Left_Wheel_Leg.obj
1.25 MB
RackMultipart20151015-11305-1wrt7of.zip/Left_Wheel_Support_Arm.obj
1.62 MB
RackMultipart20151015-11305-1wrt7of.zip/Left_Wheel_Support_Leg.obj
2.49 MB
RackMultipart20151015-11305-1wrt7of.zip/Right_Arm.obj
1.55 MB
RackMultipart20151015-11305-1wrt7of.zip/Right_Forearm.obj
3.91 MB
RackMultipart20151015-11305-1wrt7of.zip/Right_Leg.obj
2.35 MB
RackMultipart20151015-11305-1wrt7of.zip/Right_Thigh.obj
2.4 MB
RackMultipart20151015-11305-1wrt7of.zip/Right_Thing_pin.obj
501 KB
RackMultipart20151015-11305-1wrt7of.zip/Right_Wheel_Arm.obj
1.29 MB
RackMultipart20151015-11305-1wrt7of.zip/Right_Wheel_Leg.obj
1.25 MB
RackMultipart20151015-11305-1wrt7of.zip/Right_Wheel_Support_Arm.obj
1.63 MB
RackMultipart20151015-11305-1wrt7of.zip/Right_Wheel_Support_Leg.obj
2.5 MB
RackMultipart20151015-11305-1wrt7of.zip/Torso.obj
68.3 MB