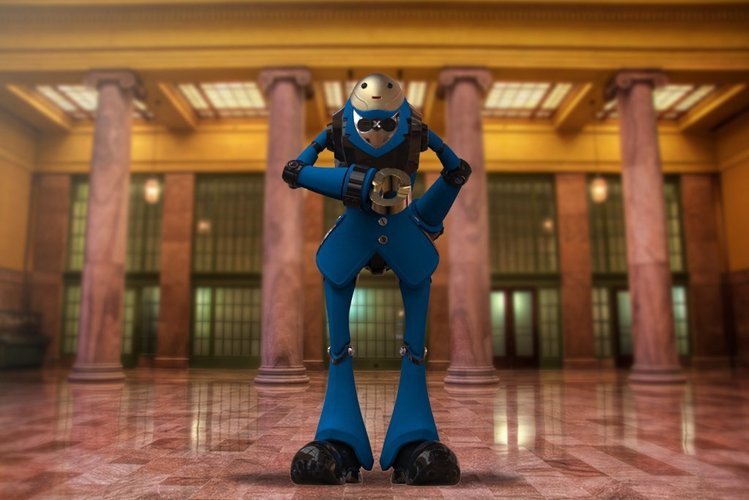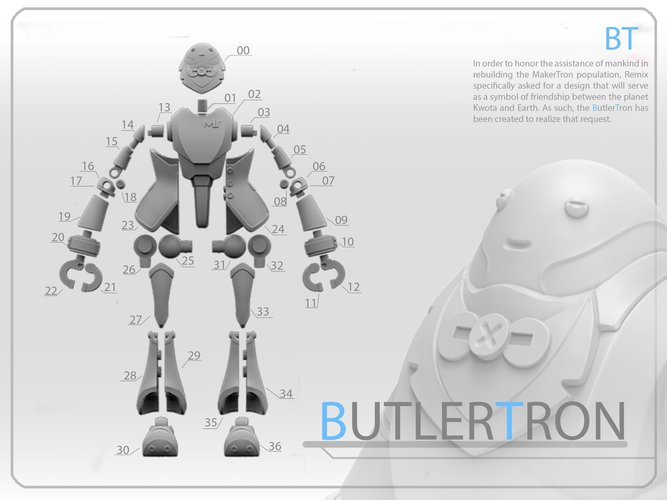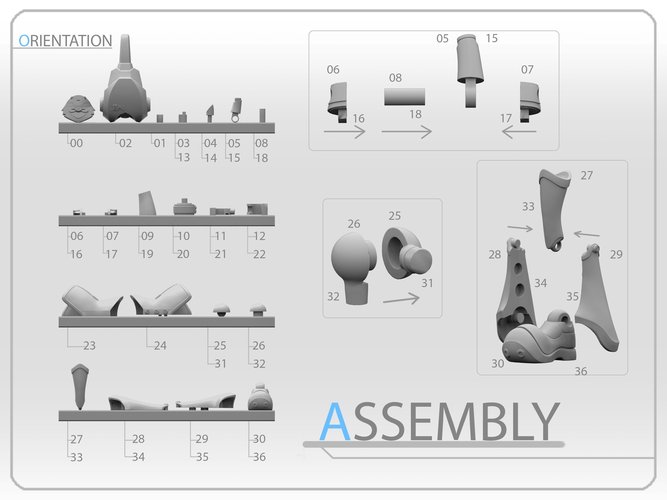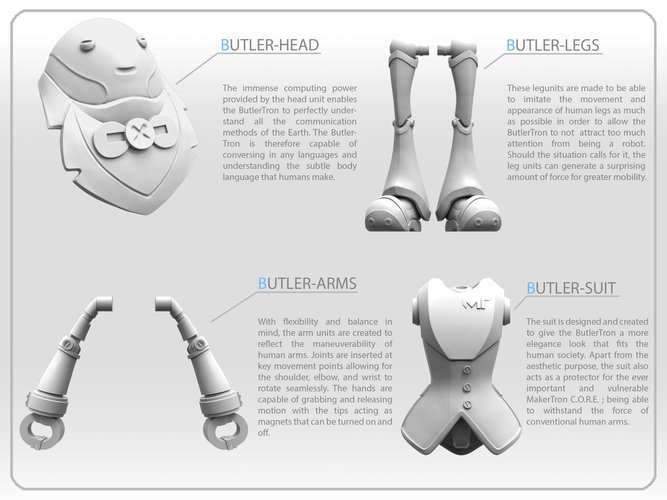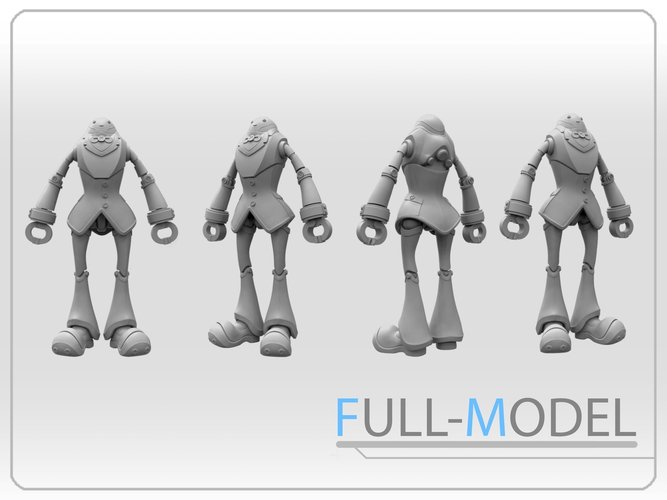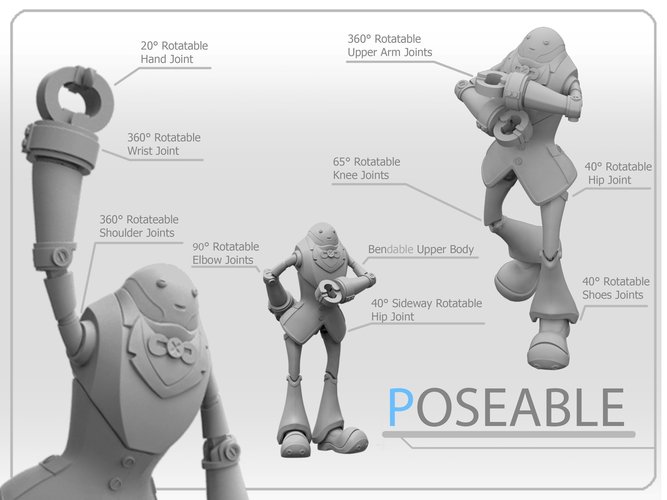 ButlerTron
In order to honor the assistance of mankind in rebuilding the MakerTron population, Remix specifically asked for a design that will serve as a symbol of friendship between the planet Kwota and Earth. As such, the ButlerTron has been created to realize that request.
The immense computing power provided by the head unit enables the ButlerTron to perfectly understand all the communication methods of the Earth. The ButlerTron is therefore capable of conversing in any languages and understand the subtle body language that humans make.
With flexibility and balance in mind, the arm units are created to reflect the maneuverability of human arms. Joints are inserted at key movement points allowing for the shoulder, elbow, and wrist to rotate seamlessly. The Hands are capable of grabbing and releasing motion with the tips acting magnets that can be turned on and off.
These leg units are made to be able to imitate the movement and appearance of human legs as much as possible in order to allow the ButlerTron to not attract too much attention from being a robot. Should the situation calls for it, the leg units can generate a surprising amount of force for greater mobility.
The suit is designed and created to give the ButlerTron a more elegance look that fits the human society. Apart from the aesthetic purpose, the suit also acts as a protector for the ever important and vulnerable MakerTron C.O.R.E.; being able to withstand the force of conventional human arms.
----------------------------------------------------------------------------------
Poseable Model
Designed to allow for great amount of movement among joints, the ButlerTron can do a wide variety of poses. Along the arms, a shoulder joint, upper arm joint, elbow joint, and wrist joint are inserted so the model can lift, bend, and rotate his arm freely almost as a human could do. The legs are attached to the body using the hip joint which allow rotation for both straight and side-way. Furthermore, the whole legs can be rotated 360° so that the knees and shoes can be pointed in the desired direction. Also presented are the knee and ankle joints which allow the two corresponding parts to rotate even further.
Printing Orientation and Assembling Parts
The images attached include pictures describing the parts number and the recommended printing orientation to get the best possible result. When assembling all the parts together, there is a picture guide on how to assemble the trickier parts together, the rest of them can be simply attached together according to the pins and holes made.
When printing, it is recommended to have an infill of at least 70% so that all joints are strong and do not break easily when you are posing the model. My print settings can also be seen in the attached picture should any of you be interested.
003_LeftArmPin.stl
52.1 KB
004_LeftTopArm.stl
275 KB
005_LeftMiddleArm.stl
2.45 MB
006_LeftArmElbow01.stl
241 KB
007_LeftArmElbow02.stl
262 KB
008_LeftArmElbowPin.stl
250 KB
009_LeftLowerArm.stl
3.11 MB
011_LeftHand01.stl
136 KB
012_LeftHand02.stl
359 KB
013_RightArmPin.stl
52.1 KB
014_RightTopArm.stl
275 KB
015_RightMiddleArm.stl
2.45 MB
016_RightArmElbow01.stl
241 KB
017_RightArmElbow02.stl
262 KB
018_RightArmElbowPin.stl
250 KB
019_RightLowerArm.stl
3.11 MB
020_RightWrist.stl
654 KB
021_RightHand01.stl
136 KB
022_RightHand02.stl
359 KB
023_SuitRight.stl
2.12 MB
025_RightLegPin01.stl
176 KB
026_RightLegPin02.stl
385 KB
027_RightUpperLeg.stl
1.07 MB
028_RightLowerLeg01.stl
1.17 MB
029_RightLowerLegL.stl
1.55 MB
030_RightBoots.stl
1.74 MB
031_LeftLegPin01.stl
176 KB
032_LeftLegPin02.stl
385 KB
033_LeftUpperLeg.stl
1.07 MB
034_LeftLowerLeg01.stl
1.17 MB
035_LeftLowerLeg02.stl
1.55 MB
036_LeftBoots.stl
1.74 MB