Hey Pinshapers,
The crew here has got you covered once again with what you should divert your eyes to on the Pinshape site! We hope your 3D printers are properly tuned and ready to do some 3D printing! Here's ten 3D print models we suggest you print out: 
 Lucas' Pick
CEO/Co-Founder
 Audiophile
Headphone holder by WallTosh
My wife Adrienne is convinced I have a headphone addiction 🙂 Might be true… I own a lot of headphones! Thanks to WallTosh, I'll soon have a few of them on display at home!! LOVE IT. PRINT IT.
Nick's Pick
 COO/Co-Founder
 Future Alien Fighter
Power Loader by AaronH15241
I'll be honest, this is one of the coolest designs I've ever come across on Pinshape. AaronH15241 put in some serious time making this suit as awesome as the original. With 124 individual parts, this fully posable and articulated build will turn any Aliens fan back into a giddy little kid. As a mechanical designer for 10 years, Aaron nailed this miniature replica, complete with detailed assembly diagrams, after painstakingly recreating it from watching the movie and taking on screen measurements! This will surely be a show piece in any Maker's collection.
 Andre's Pick
 CTO/Co-Founder
 Decorator
Shattered Faceted Light by edditive
Here's another great design to improve the aesthetics of a room.
I've got a bunch of boring looking lighbulbs in my garage. I'll use edditive's Shattered Faceted Light to spice them up.
 Victoria's Pick
 UX/UI Designer 
 Organized Human
Razor Holder by WallTosh
WallTosh has a ton of great functional designs available for download on Pinshape. This little razor holder is so cute! I'm gonna print it off and stick it onto a wall above my tub so that my razor has a permanent home. I'd like to see a solution for my shampoo bottles next! The baskets with the suction cups won't work in my tile-walled bathroom. And they're not pretty XD
 Karen's Pick
 Community Manager 
 Serious Serial Snacker
Mini Candy Machine by Tanya Wiesner
I love candy. I love 3D printing. And then Tanya came out with this mini candy dispenser! It's so cute, and it's more suitable for smaller printers. Also her video demo of how it works shows it making some nice sounds. ASMR anyone? Planning to print this out in the near future. I know when I see it in all its parts and splendour, I will truly appreciate the planning that went into this design! I'm ready for some serious snackin'. 
 Allen's Pick
 Digital Marketing Director 
 3D Pirate in a 3D World
Golden Hind by Mao
This famous Galleon looks awesome and might be one of my future 3D Prints. There's over 107 different pieces or .stl files to this model. I wonder how long it took to build the original for Sir Francis Drake to Captain? I found a video about a replica reconstruction of the Golden Hinde II here. 

 Keenan's Pick
 Business Development Manager 
 Shark Bait
Flying White Shark Figurine (Low Poly) by xyzworkshop
It's Shark Week every week – unless I'm at the beach… then sharks don't exist. But, alas, I'm not at the beach so my Staff Pick shout-out of the week goes to xyzworkshop for the Flying White Shark Figurine— a really cool design of a really cool sea beast.
 Wojtek's Pick
 Front-end Developer 
 Metalhead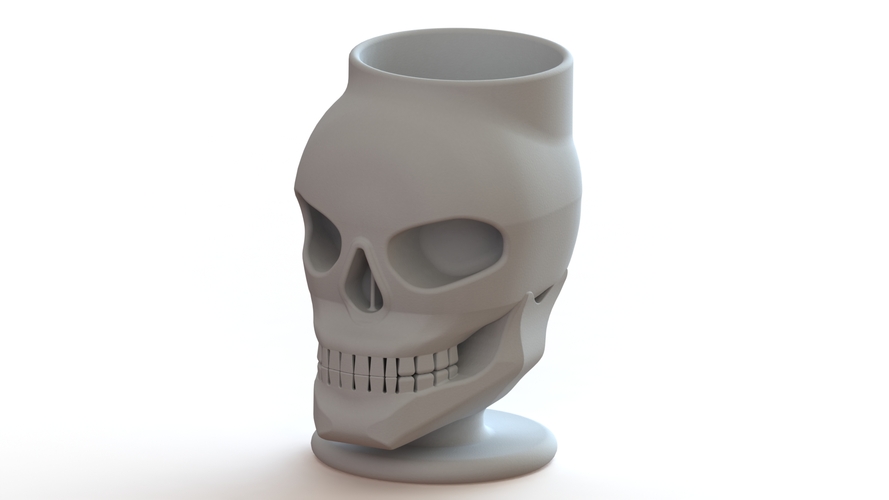 Skull Pen Holder by shinut
I usually have a bunch of pencils and markers lying around my desk. That can be pretty annoying when you're trying to keep your workspace tidy. This skull pen holder looks so cool and fierce. I need it on my desk!
 Sergey's Pick
 Back-end Developer 
 Carnivore
Chamelon by J.R. Bédard
I'd like this 3D printed Chameleon to be sitting on my desktop or laptop, or hanging by its tail. Making it semi-transparent was a smart idea as it may seem like it's actually changing colors. This baby Chameleon looks so cute and defenseless that I'd even 3D print some flies for it! No shooting at this with my air rifle! 
 Kate's Pick
 Software Developer 
 🙂 
Sequential Stackable Geometric Forms by Pikitote
Perfect present for my nephew and a great example of a good toy. Colorful, nice and very useful Sequential Stackable Geometric Forms will help your kid learn colors and shapes.. and of course improve logic and fine motor skills!
---
That's it for this week! Which Pinshape design would you have chosen? Check back next week for another set of picks from your Pinshape staff, or subscribe to our mailing list to get this delivered to your inbox every Friday!